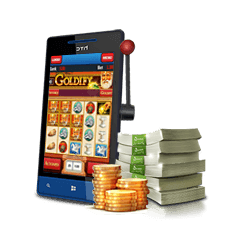 There's no shortage of Windows Phone casinos where you can play with real money, but they're not the easiest things in the world to find. With the Windows Phone OS becoming more and more popular, we're seeing an increased number of mobile casinos. Windows Phone users are a big target for gambling providers in this growing market. For instance, Springbok Casino has been a firm favourite of our readers thanks to its wide variety of popular games optimised for Windows Phone users and generous welcome bonuses.
When it comes to platforms like iPhone and Android, users generally have a couple of options when it comes to accessing mobile casinos. Windows Phone users don't have quite so much choice. While BlackBerry handsets rely pretty heavily on dedicated apps, specifically designed for the small screen of most BlackBerry devices, Windows Phone users actually have to deal with the opposite situation - reskinned mobile websites from gambling providers tend to be the easiest way to get into a Windows Phone casino.
With that being the case, you'll find it difficult (perhaps even impossible) to find casino apps that allow you to gamble with real cash, although there are plenty that let you play for fun, in the Windows Phone Apps and Games Store. But don't worry; we've found some of the best places to play and listed them further down this page.
Find the best ways to play Windows Phone 2018 casino games
Learn how to navigate the limitations of using a Windows Phone to gamble
Discover the top casino sites with the most generous welcome bonuses and promotions
"We've found some of the best places for you to play in real cash on Windows Phone casinos."
Some Windows Phone handsets are pretty advanced and can even put the performance of top tablets and computers from just a few years ago to shame. However, using a real money Windows Phone casino is still a bit different to playing on a laptop or desktop computer.
There are a few notable differences, but the most obvious is the disparity between the graphics and sound available on Windows Phone casinos compared with those on computers. Some of the best websites have done a good job of reskinning their offering for Windows Phone users, but there's only so much they can do to get around hardware limitations.
Another key difference between traditional online casinos and Windows Phone casinos is the range of games offered. On mobile casinos you'll tend to find several key games popping up again and again - blackjack, baccarat, slots and some form of video poker - with maybe one or two other additions. You might miss your favourite poker variant, but with new games appearing all the time you may not have to wait forever for it to appear.
Playing with a touchscreen certainly requires some getting used to - you might find it a little fiddly at first, but you'll soon get used to the layout of a casino. Windows Phone handset screens are generally quite sensitive, so you shouldn't find yourself making too many mistakes.
Despite these limitations, most people are thrilled that they're able to gamble while they're on the move in a portable casino. South Africa Windows Phone users are no exception - the experience may not be perfect, but it's a great way to kill some time on the morning commute, at the beach or...well, just about anywhere.
Because Windows Phone casinos are generally reskinned versions of traditional sites, rather than being in app form, you might find that you already have an account with one of the gambling providers below. On this page, you'll find some of the best real money Windows Phone casinos we've found on our travels, and we think you're going to love them.
Play now at Springbok Casino and get R11,500 free!