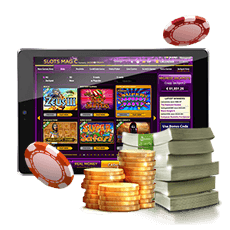 Walk into any casino and you're likely to be greeted by, amongst other things, the sights and sounds of slot machines. All flashing neon and jackpot alarms, even if the distinctive clinking of coins is falling by the way side as casino slot machine payouts are digitised, slot machines are synonymous with casinos in Las Vegas, South Africa and the rest of the world.
Because the game is so popular in land-based casinos, slot machines of a virtual nature are one of the cornerstones of the online gambling industry. Unbelievably, the variety of online slot machines is even greater than land-based casino slots. Wondering which type is best for you? Read on and find out everything you need to know about the various online slots games available at the most popular South Africa casinos online. Or, if you want to head straight to the good stuff, check out Springbok Casino, our #1 South Africa casino of 2018.
Choose from hundreds of popular online slots
Discover the leading South African online casinos
Deposit and withdraw with a wide range of secure payment options
"Thanks to their slick graphics, realistic animations and tense bonus rounds, online slots have earned their place as one of the most popular forms of online gambling."
Paylines - Old school casino slot machines used to have a single payline, a horizontal line that bisects the centre of all the reels. More modern slots, casino and online, offer multiple paylines including other horizontal, and even diagonal, lines through the reels giving you more chances to win. The more paylines you choose, the more a spin costs.
3 reel vs 5 reel - Often seen as the budget option, 3 reel slots are simple to understand and have a retro feel. This makes them popular with gambling newbies. Payouts are less common, but tend to be higher when you do get lucky.

5 reel slot machines have many more different paylines, which equates to more chances to win. They're the top choice of long time online gamblers as they offer more slicker, more entertaining production values.
Fixed vs Progressive - Fixed jackpot slots offer more consistent wins, but a lower payout. Progressive slots require more commitment, in that you have to stick with them for longer to have a chance of winning any real money back.
As with casino slot machines, there's no strategy you can employ to guarantee a big real cash payout on an online slot machine. While some people do swear by various roulette betting strategies, the truth is that everything is completely random, so there's no sure-fire way to guarantee a winning streak.
So why play? Well, jackpots can be very high (as in millions of ZAR high) and slots are an entertaining, comparatively cheap, way to pass some time. The best tip we can offer is to look for an unusually high progressive jackpot building up - a sure sign that a payout is overdue - and to take it slow; as in a casino, slot machines sometimes have a limit, often in the range of R10,000, that dictates how many consecutive spins you can have on one machine. It would be a nightmare to miss out on winning a progressive jackpot because you've maxed out on spins.
Also, look for a slot machine with a top bonus round that suits your style of play; some offer free spins, others rounds in which reels contain more wild pictures, but they're all a great way to play for longer without having to spend any real money.
Thanks to their slick graphics, realistic animations and tense bonus rounds, online slots have earned their place as one of the most popular forms of online gambling. Whether or not you've already tried them in a casino, South Africa slot machines are easy to get to grips with and fun to play. The same is true of online casino slots, and we've found some of the best places to take them for a spin.
Play now at Springbok Casino and get R11,500 free!