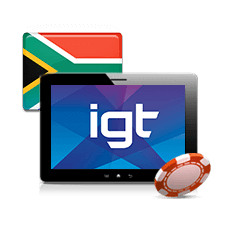 IGT, or International Game Technology, is the world's largest slot machine manufacturer and land-based casino provider. Started in 1981, before the creation of the internet as we know it, IGT began its life operating entirely within the world of offline gambling. And boy, did they do a good job of dominating the market. Experts believe that around half of the slot machines in American land-based casinos are operated by IGT, which is a pretty staggering figure.
IGT ventured into the online space in 2004 after buying out WagerWorks and rebranding it 'IGT Interactive'). Clearly, this was a smart move - online gambling continues to take a bigger and bigger slice of the pie when it comes to looking at the amount of money gambled by punters each year. IGT Interactive certainly hasn't been hindered by its parent company's offline past. In fact, quite the opposite is true - IGT's steps into the online space have gone extremely well.
All of this means that, when you gamble with IGT, you can rest assured that you're doing business with one of the oldest and most respected names in the gambling business. Looking for an online casino to start playing IGT games right away? Check out Springbok Casino, voted by our players as the #1 online gaming site of the year.
Learn about IGT games and the best places to play them
Discover the huge range of interactive casino games
Feel safe and protected when you play in our recommended casinos
"When you gamble with IGT, you can rest assured that you're doing business with one of the oldest and most respected names in the gambling business."
The benefits of working with IGT are pretty obvious for online casino operators; with extensive offline licensing deals already in place (including Star Trek, Monopoly, Jeopardy and many more), IGT is well placed to offer licensed games that consumers seem to love. And why wouldn't they? There's not much strategy to slots so the more entertainment value they can offer, the better.
However, there are also some pretty big advantages for consumers who choose to play at IGT casinos:
Lots of choice - With over 100 slot machine titles, featured on hundreds of different online casino sites, you're bound to find a franchise you're a fan of. It might seem like a little thing, but that can really brighten up your experience playing slots.
Non-exclusive deals - IGT allows online casino providers to feature games by other software developers on their site, which allows customers to play their slick, exciting slot games alongside other table games, live dealer games and so on.
Positive reputation - IGT has been around a LONG time. They know what makes gamblers, both online and offline, tick.
IGT caters primarily to the English speaking market but, with offices in over 10 countries (including UK offices in London and Manchester, as well as European offices in Estonia and Sweden), you can probably find support staff who speak your language to help you work through any issues or problems you might come across.
With around 95% of the casinos using IGT's software operating from within the UK, you could be forgiven for thinking that it is a UK company. But you'd be mistaken. IGT is actually based in San Francisco, at that heart of the technology known as Silicon Valley. The company caters for so few players based in the United States because of laws designed to prevent online gambling in many states of America.
Like in the USA, online gambling is a little murky in South Africa. However, you're still very likely to find IGT's software in casinos that accept payments in rand and are used by South Africans. Here are some that we've found and meet with our approval.
Play now at Springbok Casino and get R11,500 free!