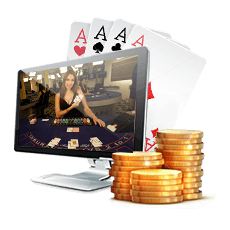 Wondering if online casinos are legit? They emerged as a reaction to those who were convinced that online casinos made it easy for providers to fix the games. Because the process that determines every hand dealt, roll of the dice and spin of the roulette wheel takes place 'behind the scenes' after players have made their bets, their argument was that it would be easy for casinos to fix the majority of results in their favour. With reputable software, that's simply not the case. But that doesn't stop wandering minds.
Of course, third party inspections and reports about random number generators should be enough to quash these rumours, but it's hard to please skeptics. Live dealer casinos were the next logical step to get them onboard. In such a casino, live dealers - we're talking about actual human beings, not some fancy 3D illusion whipped up by a South African computer programmer - deal real cards and use real roulette wheels. This footage is streamed to players after they have made their bets.
Some providers offer gimmicks to get the attention of potential players - in any given casino, South Africa live dealers are less common than American girls, but there are also Playboy live dealers and even topless casino live dealers out there. Of course, the best live dealer casinos go beyond being just a gimmick and create an experience for players that will keep them coming back. That's why you're going to love live dealer casinos like Springbok Casino.
Discover the best South African live dealer casinos
Pay with a wide range of popular payment methods
Experience live dealer casinos in secure environments and reputable casinos
"Live dealers bring a certain human touch to online gambling, with a chat function and small talk, which many people appreciate."
Provided you have a decent internet connection that can keep up with streaming video, and aren't hindered by a restrictive monthly data allowance, gambling somewhere with a casino live dealer is the best way to bring a more 'authentic' gaming experience into your home. In fact, it's probably the closest you'll get to feeling like you're in a land-based casino without setting foot outside your front door. Especially with live dealer Hold'em or live dealer blackjack.
Live dealers bring a certain human touch to online gambling, which many people appreciate. Live dealer casinos often offer a chat function, and live dealers will sometimes make small talk with patrons just like in a land-based casino. Just make sure you don't let any frustration get the better of you - angry or otherwise inappropriate comments in the chat box will usually result in a lifetime ban.
One notable disadvantage of live dealer casinos is that it means giving up a little of the control you have over the online gambling experience. Let us explain what we mean by that. Imagine that you've worked out a system that you use when gambling, such as doubling up your real money bet every time your selection loses on the roulette wheel.
In a traditional real cash online gaming situation, you have all the time in the world to place your next bet; the wheel doesn't spin until you press play. If you're using a live dealer roulette casino, you have to make sure you get your bet in before THEY spin the wheel. This isn't a huge problem for most people, but it's worth bearing in mind.
You might struggle to do so, as online gambling providers aren't currently able to operate in South Africa. However, there are countless live dealer casinos operating in different languages and so on all over the world, even for games like live dealer baccarat. We've rated the top places to play if you want to give the casinos, live dealer or traditional, a whirl.
Play now at Springbok Casino and get R11,500 free!