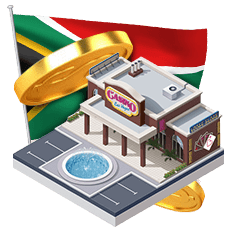 Things have changed since the 1970s, when the majority of casinos were small-time enterprises located in the Bantustans and operating within the constraints of a small market. Now there are nearly 50 registered casinos in South Africa, including several sprawling entertainment complexes, found all over the country.
Designed for use by both natives and tourists of all ages, these complexes are much, much more than just rooms full of slot machines. Yes, the casino element is a big part of these venues, but there are also activities for the whole family to enjoy. That includes restaurants, shops, cinemas, hotels and conference facilities, as well as nightclubs and bars for those of legal age.
As is the case with many casinos in Las Vegas, casinos often have a central theme that dictates everything from the architecture to the decor and the outfits their staff wear. Escapism is all part of the fun.
If you aren't a fan of sitting at home doing some gambling while relaxing under your lapa then you can check out our list of land-based casinos in South Africa. From the world renowned Sun City to the humble yet understated Emnotweni, South Africa has something for everyone.
Geared towards business and leisure travellers alike, South Africa has some truly impressive casino complexes that offer so much more than just gambling. With a bit of glitz and glamour, they provide the perfect break from more traditional African tourist activities. And, for locals, they're the easiest way to gamble in South Africa without falling foul of the law. Now, do you think you can visit them all?